We invite you to join us in worship, in prayer, and in friendship.
Join us at our daily Mass and at our weekend Liturgy. Worship the Lord with us and be enriched by thoughtful homilies, beautiful music, and a welcoming community of faith.
We look forward to meeting you!
You can support your parish electronically
What's New at Saint John Chrysostom
Congratulations F. John Carroll: Heartfelt congratulations and gratitude to Father John who has served as our administrator for three years. Father John became parish administrator on July 1, 2015. We look forward to many more good things!
Summer Schedule: There is no Saturday evening 7:00pm Mass during the summer months of July and August. The 7:00pm Mass will resume in September. more...
Memorial Mass for Jim Carroll: You are invited to a Memorial Mass in honor of Father John's younger brother, Jim Carroll who passed on Wednesday June 6, 2018 after a courageous battle with cancer. The Memorial Mass will be on August 4th, 2018, at 11:00am. A luncheon will follow.

Read Jim's obituary.
RIP John Koury: Join us as we extend our heartfelt sympathy to the family of John Koury, brother of Father Jim, who died unexpectedly on Saturday, June 16, 2018. Read John Koury's obituary
Eucharistic Ministers & Lectors: The current schedule for Eucharistic Ministers & Lectors is posted on-line here
Parish Health Ministry: Our next Blood Pressure Screening is scheduled for Sunday, July 8th, 2018, after the 7:30 am Mass in Room 5-6 of the Parish Center.

The next meeting of the Saint John Parish Health Ministry will be held on Wednesday, September 5th, 2018, at 7pm in the Parish Library. New Members are welcome. It is not necessary that you be a nurse or health care professional to be part of the Health Care Ministry.
Peace Garden in Memory of Father Charlie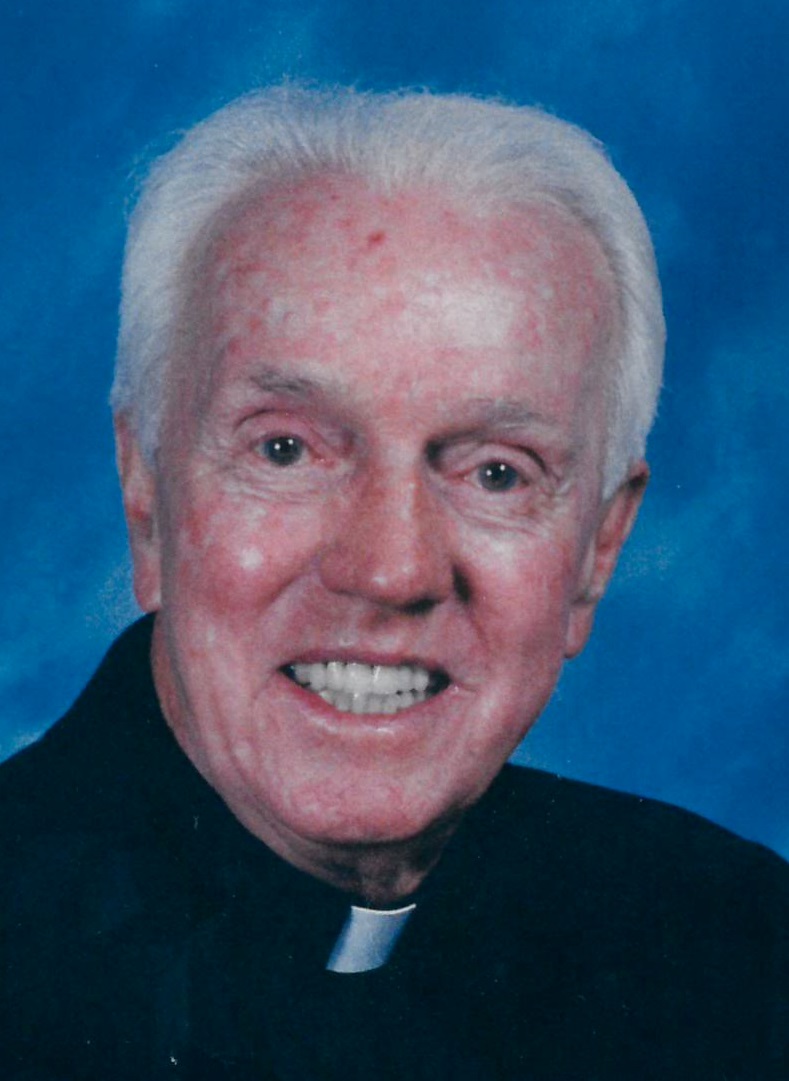 On June 4, 2017, we dedicated the peace garden in Father Charlie's honor. The garden is located in the back yard if the church. It will always be open to anyone who wants to sit and reflect, have lunch or even take their coffee outside. It is our parish garden for some quiet time.
Faith Formation (Religious Education Program) 2017-2018: Our faith formation program has concluded for the year. Saint John's expresses our appreciation to the teachers for the love they share with our children. This becomes more evident each year in their faithfulness to our Faith Formation Program as well as making efforts in keeping your children safe on our busy Sunday mornings.

Watch this space of the parish bulletin for updates regarding the 2018-2019 program and registration in the Fall.

more Religions Ed...
Project Cookie Dough: Our June batches of cookies will be due one day earlier this month, on Thursday, June 14 by 3:00pm Leave cookies in the parish kitchen downstairs. If you have any questions, please feel free to call Donna O'Connor at 617-524-4396. Thank You!
Saint John's Parish Library If you are looking for inspirational reading come visit our parish library. We have several excellent books for you to read. The Library, a gift from our Tuesday Night Prayer Group, is dedicated to the memory of Father Dunn. It is located in the upper room, and contains books on interesting variety of subjects including Church History, Theology, Bible and related books, Lives of the Saints, Maryology, Spirituality, Prayer Parish Ministries, and some Catholic fiction. Stay tuned for some exciting improvements to our library.

Take a look and take out a book.
Project Rachel is a confidential Catholic outreach ministry offering hope and healing to women and men hurting from past abortions. Archdiocese of Boston. For further information call 508-651-3100 or help@projectrachelboston.com or visit the website at projectrachelboston.com

Project Rachel is named after the Old Testament figure Rachel, who weeps inconsolably for her children "who are no more" until God came to her, offering hope for her future. (Jeremiah 31:15-17)
Saint John's Prayer Group: Concludes their meetings for the summer with their final meeting of the season on Tuesday, June 26th,2018. The group resumes prayer gatherings in the fall.
Saint Vincent de Paul Society: There are many in our community in need. Saint Vincent de Paul is an organization to help. Would you join us so that we can better identify those in need and provide them with assistance? If you can, please call or leave your name in the parish office, or leave a message at 617-469-0459.
Pray for our Sick: Each day we pray for those sick or infirmed in the Parish. If you would like us to pray specifically for someone in need, please write the name of the person in the Parish Book of Intercession in the vestibule of the church or call Saint John's Office at 617-323-4410 ext. 10.
Volunteering at Saint John's Saint John?s is blessed with all those who volunteer their time to enrich our parish community. It reflects the generosity, the social commitment and the basic Christianity of our parish family.

At present the Liturgical Committee is calling parishioners to serve in the following ministries, Eucharistic Ministers are called not only to minister the Body and Blood of Christ, but to have and maintain a strong faith, a sense of awe, and an inclusiveness of others as the foundation for their ministry. The ministers accomplish this by strengthening their faith from within and sharing it with the faithful at communion time.

There are additional duties available at Saint John?s that you can participate in that will allow you to assist the parish and help you serve your faith. We need people willing to serve as Lectors or Adult Altar Servers.

If you do not wish to be out in front, you may wish to care for the altar or arrange for the flowers. Whatever your expertise, your assistance would be greatly accepted. No job or amount of time is too little.

If this speaks to you and you would like to be involved or just to find out more, please call or email Mary Campion.
Saint John's Annual Parish BBQ The parish barbecue celebrating our name sake Saint John Chrysostom is being held on September 16 at 2:00pm. Tickets are going on sale. Price of the ticket is $15, kids 12 and under are free. Families are $20. If someone is unable to buy a ticket, come anyway. This is a way to bond with other parishioners, laugh, eat and have a good time. The food being served is reasonable sized barbeque chicken, potato salad, Boston baked beans, corn on the cob, and pies. Come and Celebrate who we are! A wonderful Parish Family event!
Communion Calls The parish staff will bring Holy Communion to home bound on a monthly basis. Please call the Parish Office 617-323-4410, if you know of someone who is home bound and who would like to be included.
Celiac Disease For those with celiac disease, we do have low-gluten hosts. When you come up for communion the priest will have the low gluten hosts in a separate container (pix). Take the host out of the container yourself since the priest has touched the hosts that are not gluten free.
Military If you know of someone on active duty or about to be deployed and would like their name displayed in the vestibule of the church, and included in the parish bulletin, please contact the parish secretary with the name and service. We will remember them in our prayers.
Our Parish Mission Statement
Saint John Chrysostom Parish is a welcoming, inclusive community of believers in Jesus Christ. We invite all to pray with us. The gifts we bring and the joys we share are influenced by our personal history, religious experiences and orientation, all of who we are. We follow the Gospel message of love through vibrant liturgies which inspire us to act as we come with open hands serving the needs of all peoples.
Welcome to new parishioners!
If you are new in the parish, please stop by and say hello to the celebrant following mass and introduce yourself. Also, visit our office in the
parish center
or call the parish office (617) 323-4410 EXT. 10 to register with us so we have your name and address. Anyone in our parish who will be moving is also asked to advise us of their new address. Thank you.
---
Bookmark This Page !
Back to Top
Thank you for visiting our site.
280248 Visitors since 11 March 2012.
Comments or suggestions about the website are most welcome.
Email the webmaster
Copyright © 2002-2017 Saint John Chrysostom Parish, West Roxbury, Massachusetts