We invite you to join us in worship, in prayer, and in friendship.
Join us at our daily Mass and at our weekend Liturgy. Worship the Lord with us and be enriched by thoughtful homilies, beautiful music, and a welcoming community of faith.
We look forward to meeting you!
You can support your parish electronically

What's New at Saint John Chrysostom
Saint John Chrysostom Parish is blessed as we continue our faith journey under our administrator for Saint John Chrysostom Parish, Father John Connolly.

Why an administrator and not a pastor? Click here for an explanation of the terms "pastor" (meaning shepard), Administrator, and Parochial Vicar.
Holiday: The Saint John's Parish Office will be closed on Thursday, November 27th and Friday, November 27th, 2014, in commemoration of the Thanksgiving holiday. If you need a priest for any reason don't hesitate to call Saint John's Rectory 617-323-4410.
Thanksgiving message: Welcome home to all young adults who have come home from college for the holidays and to all our young men and women home on leave from the Armed Forces, also all our friends and visitors to Saint John's Parish Family.
Thanksgiving Day Mass: On Thursday, November 27nd, 2014, Saint John's Parish will celebrate our national holiday with Mass at 9:00 AM. Parishioners are invited to bring non-perishable food items and/or donate to the Saint Vincent de Paul Society in a special collection. Parishioners are also invited to bring wine and bread for their Thanksgiving dinner which will be blessed at the end of Mass.
Thanksgiving Day Prayer
Heavenly Father, on Thanksgiving Day
We bow our hearts to You and pray.
We give You thanks for all You've done
Especially for the gift of Jesus, Your Son.
For beauty in nature, Your glory we see
For joy and health, friends and family,
For daily provision, Your mercy and care
These are the blessings You graciously share.
So today we offer this response of praise
with a promise to follow You all of our days.
by Mary Fairchild
Bereavement Support Group at Holy Name Parish is meeting twice monthly beginning in November. This is a peer support group, not group therapy, the purpose of the group is to come together in grief to comfort and assist one another. To register/additional info. Call Fran Hauck at 617- 325-4865 x13 or fran.hauck@holynameparish.com or see the Holy Name Parish web site for details.
Feast of Christ the King This Sunday, November 23rd, 2014, we celebrate the Feast of Christ the King. The Responsorial Psalm for today gives us the symbol for understanding the Kingdom of God and the Kingship of Jesus-the house of the Lord and His City. The one great longing of the ancient Jews was to live in peace under the rule of the Messiah. The symbol of this peace was the city of the Lord and His Temple. To live in his city meant to live under his protection, to have prosperity from his hand, to live in harmony. The city of the Lord is a place where peace and love reign.. It is a visible sign of the invisible kingdom. The visible sign of the invisible kingdom is experienced here at St. John's as we share our gifts and talents with one another.
Thank You and Congratulations, Sister Maureen!: Sister Maureen Taaffe, SCN is celebrating her Silver Anniversary of twenty-five years as Pastoral Associate here at the Parish of Saint John Chrysostom. In ways great and small, day in and day out, for a quarter of a century, Sister Maureen has generously and faithfully shared the gifts of her own faith, hope and love with all of us here at Saint John's and beyond. We give thanks to Almighty God and to Sister Maureen for blessing us with the ongoing gift of her ministry, and we prayerfully ask Our Heavenly Father to continue to bless Sister Maureen with the health, gifts and graces she needs to continue her exemplary service of Christ-like love, care and compassion. Please be sure to offer a word of gratitude and congratulations to Sister Maureen when you see her. Plans are being made to celebrate Sister Maureen's twenty-fifth anniversary among us at a later date during this coming year.
Parish Bazaar 2014: Our bazaar this year was dedicated to the memory of Mayor Tom Menino. The 2014 holiday bazaar was fantastic! The spirit of joy was felt by all on Saturday because of the immeasurable sharing of the gifts and talents of our parish family all year long. What a great and organized and creative team we have here at Saint John's. With the hall beautifully decorated that the spirit of Thanksgiving was felt throughout the day. We are so grateful to you for all your hard work. It's amazing how much can be accomplished when a team of generous individuals work together in harmony to bring such happiness to so many people. The artists and crafters, the bakers, and knitters, the jewelers, and planters, the wreath makers, the raffle gifts, and Christmas room were a delight to see. The kitchen workers kept us well feed with delicious meals, and naturally we topped it off with a tasty bowl of ice cream. As Saint Paul tells us "we have gifts that differ according to the favor bestowed on each of us." These God given gifts shared as a community in Love keeps our Community alive and well. Thank you to all who contributed, either by volunteering in preparation, during the event, providing items or food, or through attendance. Saint John's Parish extends a warm and hearty thank you to all.
Religious Education Program (CCD) 2014-2015:
Upcoming Classes
Sunday, November 23rd, 2014
9:30 AM
CCD Grades 1 & 2
10:30 AM
CCD Grades 3, 4, 5 & 6
6:30 PM
CCD Grades 7,8,9 & Confirmation Class
Sunday, November 30th, 2014
No Religious Ed Classes this weekend
Happy Thanksgiving!
Sunday, December 7th, 2014
9:30 AM
CCD Grades 1 & 2
10:30 AM
Parents Gr 5 & 6
CCD Grades 3, 4, 5 & 6
6:30 PM
CCD Grades 7,8,9 & Confirmation Class
more Religions Ed...
Saint Vincent de Paul Society: Thanksgiving also provides us with a timely opportunity to thank the dedicated men and women who comprise the St. John Chrysostom Parish Chapter of the Society of Saint Vincent de Paul. This small but dedicated group faithfully meets to pray for and to provide for those, members of our parish and the wider community who are in need. Thanks so very much to all the members of our parish chapter.

The offertory collection at the 9:00am Mass on Thursday, November 27th, 2014, Thanksgiving Day will be to benefit the good work in which the parish Saint Vincent de Paul Society engages. In both the Seasons of Thanksgiving and Christmas, the needs of those folks who are struggling to get by increase, as do the demands made on the resources of the Society. Please be generous this Thanksgiving Day in supporting the Society and those whom they serve with your prayers and with your monetary gifts. Thank you for your generosity.
Pray for our Sick Each day we pray for those sick or infirmed in the Parish. If you would like us to pray specifically for someone in need, please write the name of the person in the Parish Book of Intercession in the vestibule of the church or call Saint John's Office at 617-323-4410 ext. 10.
Ultreya: Please join us at Saint Mary's in Dedham on Tuesday September 30th, 2014, 7PM or our Ultreya, a night of praise, prayer and faith sharing. We meet in Saint Joseph's Chapel, in the parish center on Avery Street. Fr. Charles Flaherty will celebrate Mass.
Project Cookie Dough Many thanks to our 12 bakers who made 883 homemade cookies this past month - they were very much appreciated. We welcomed another new baker to this service project, for which we are very grateful! November's cookies will be due by 3:00 p..m.Saturday, December 15th, 2014. They may be dropped off at the Parish Center. New bakers are always welcome! If you need more information, please contact Donna O'Connor at 617-524-4396. Thank you to all of you who keep this service project going each year! We are so grateful. New bakers are always welcome! If you need any information, feel free to contact Donna O'Connor at 617-524-4396. Thank you!

For as long as we can remember, November has been the month of giving thanks. I would like to share some notes of thanks that I have received over time from some of our cookie recipients , so that you know just how much this 'little project that could' has brought so much joy to others:

When you called me on the phone with your idea, I quite frankly didn't think you would be able to consistently produce cookies on a regular basis. Boy, did you prove me wrong! Your project is a blessing to us, having delicious homemade cookies for lunchtime instead of our regular store-bought cookies has been a huge hit. In my years here, this has been one of the most successful church projects to benefit our guests.'

With grateful hearts, we thank all those who are participating in this project. Your thoughtful remembrance of us in this way is sincerely appreciated.'

'Once again, we are very grateful for your never-ending love and concern.'

'We look forward to the arrival of cookies, but we know it takes time and it is an effort. We appreciate your gift of time.'

'Thank you for your consistency and compassion. I know all that goes into baking, etc. so I appreciate it all the more. There is nothing like home-baked cookies.'

'I so admire your dedication and commitment.' May God continue to bless your hands, your hearts, your enthusiastic spirit and your ovens!'

'What greater joy could we have than to receive homemade cookies! Thank you so much. May your joyful spirit of reaching out continue. May your ovens keep on working. May the aroma of freshly-baked cookies fill your homes and remind you that you touch the hearts of all of us.'

Needless to say, every batch of cookies helps to bring happiness to someone. Those who participate know that baking can be a labor-intensive project, but please know that it is also a labor of love. In this season of Thanksgiving, I would like to personally say 'thank you' to each and every one of you who have baked for Project Cookie Dough over the years. I am grateful that you have chosen to be a part of this service project that is close to my heart, and I want you to know that you make a difference. I leave you with my favorite quote: 'To the world you may be one person, but to one person you may be the world.'

God bless! ~ Donna O'Connor
Parish Health and Prayer Shawl Ministry:
Saint John's Prayer Group will next meet on Tuesday evening November 25th, 2014 at 7:30 PM. Please come, bring a friend and pray with us. more...

Catholic Schools Open House and Registration
Our Music ministry would like to introduce music from our hymnal that is not often sung or sung infrequently. As you look through the book, you may see a hymn or song from your childhood summer camp, or other church experiences, that you'd like to hear or sing again. The music ministry would be happy to introduce new hymns or more frequently sing music that will uplift souls and minister to the whole flock. Just drop off any hymns or a list of hymns that you'd enjoy, in an envelope with Alan Long's name at the office. Thank you for your support of the music ministry. Let us move forward in the peace and joy of God's Great Love.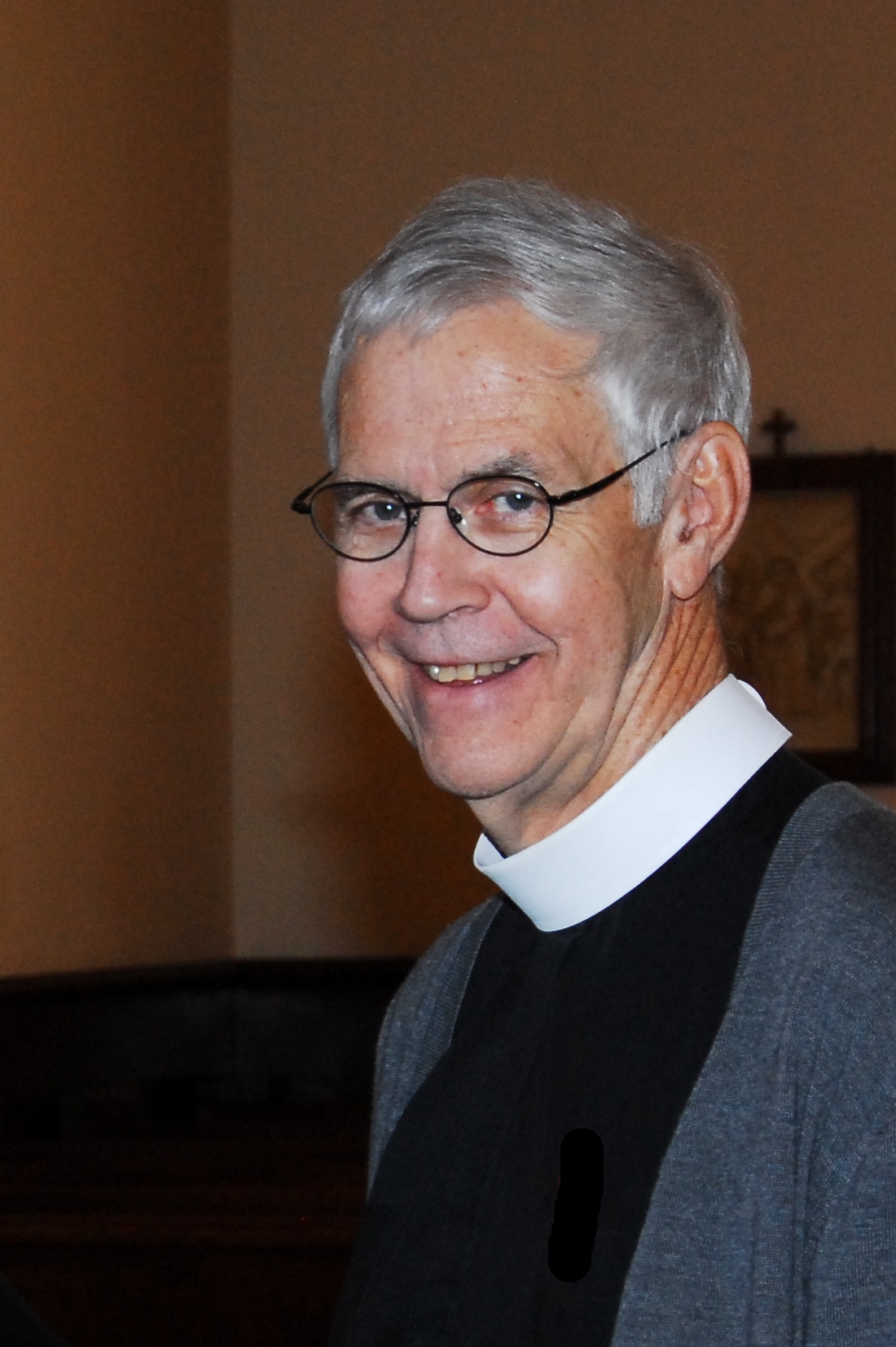 Let us pray for and celebrate the life of Father William S. Dunn, physician of souls, as his pilgrimage brings him to eternal life. May he rest in peace. Father Dunn passed away on Monday, 20 May 2013 after a brief illness. Burial was at Saint Joseph's Cemetery, West Roxbury.

One year has passed since Father Dunn passed away unexpectedly. His illness came upon him suddenly after returning from a trip to the Holy Land with Cardinal O'Malley and a large number of priests. An overflow crowd filled the church with Cardinal O'Malley presiding on May 23, 2013, and he was laid to rest where many of our parishioners have been interred at Saint Joseph Cemetery.

He had an interesting background. One of 7 children, he grew up in South Dakota and travelled extensively throughout the United States. A medical doctor, he did training in Worcester, MA, taught in St. Louis and Washington, DC and found time for a Masters degree in public health at George Washington University. In his youth, he thought of becoming a priest. The call came back in his late fifties. He entered Pope John XXIII National Seminary for Delayed Vocations in 2002. Four years later, there was Dr. Dunn becoming Father Dunn at the hands of Cardinal O'Malley.

His first assignment as parochial vicar was to Saint Mary Parish in Chelmsford. On December 13, 2010, he was appointed the fourth pastor of our parish. Many of us remember his first weekend at Saint John's when he introduced himself, telling us his life story with a sense of humor. His pastorate was a mere two years and four months and he was taken from us much too soon. Tall, friendly, quiet and personable, he was a priestly gentleman. May he rest in peace!

Obituary in the Boston Pilot

Kindly keep Father Dunn in your prayers. Thank you.

Pastoral Collaboration Plan Read latest about the Archdiocese of Boston announcing the first parishes to be grouped under the first phase of the new pastoral plan in the Pilot
Pastoral Planning Read this article from the Boston Pilot discussing Caridnal Sean's approval of the Archdiocesan Pastoral Planning Commission proposal. The proposal calls for the archdiocese to organize its 288 parishes into approximately 135 groups called "parish collaboratives." Led by one pastor, a group of priests, deacons and lay ecclesial ministers, called a "pastoral team." Be informed.
Saint John's Parish Library As we enter the Season of Lent, please take advantage of the wonderful parish resource of our Library. Our Librarian has prepared a wonderful display of works that are especially suitable for reading during the Lenten days of grace and repentance. Please stop by and browse through our Lenten display as well as the rest of the collection, and pick out a literary companion for your own Lenten journey

The Tuesday Night Prayer Group has dedicated their parish library to Father Dunn. Many books have been donated to deepen the spiritual life of our parishioners. Several ladies have been overseeing this project, both financially and faithfully checking the spiritual content of the books. They are grateful for the many religious texts they have received, which have been already used by many of our parishioners

If you are in need of inspirational reading come visit our parish library. We have several excellent books for you to read. The Library, a gift from our Prayer Group is located in the upper room, and contains books on interesting variety of subjects including Church History, Theology, Bible and related books, Lives of the Saints, Maryology, Spirituality, Prayer Parish Ministries, and some Catholic fiction.

Take a look and take out a book.
Volunteering at Saint John's Saint John's is blessed with all those who volunteer their time to enrich our parish community. It reflects the generosity, the social commitment and the basic Christianity of our parish family.

At present the Liturgical Committee is calling parishioners to serve in the following ministries, Eucharistic Ministers are called not only to minister the Body and Blood of Christ, but to have and maintain a strong faith, a sense of awe, and an inclusiveness of others as the foundation for their ministry. The ministers accomplish this by strengthening their faith from within and sharing it with the faithful at communion time.

There are additional duties available at Saint John's that you can participate in that will allow you to assist the parish and help you serve your faith. We need people willing to serve as Lectors or Adult Altar Servers.

If you do not wish to be out in front, you may wish to care for the altar or arrange for the flowers. Whatever your expertise, your assistance would be greatly accepted. No job or amount of time is too little.

Anyone interested in assisting please contact Sr. Maureen at 617-323-4410 ext. 16
Eucharistic Ministers and Lectors: Saint John's would like to thank our Eucharistic Ministers, Lectors, Altar Servers, Ushers, Collectors and Greeters for all of their help in assisting us at Masses and especially Funerals. The community appreciates and values their time and talent here at Saint John's. If anyone feels so inclined to be involved kindly call Sr. Maureen at (617)-323-4410 ext. 16.

Please notify the Parish Office, if you are planning a vacation within the next two months so we may make our scheduling arrangements. If interested in Lecturing, Ushering or Greeting, kindly call Sr. Maureen at 617-323-4410. Thank you.

We would like to Thank our Eucharistic Ministers, Lectors, Altar Servers, Ushers, Collectors and Greeters for all of their help in assisting us at Masses and especially Funerals. We appreciate and value their time and talent here at Saint John's. New Lectors and Eucharistic Ministers are welcome. As disciples in Christ perhaps you may also want to share your gifts with us.

"Being able to serve as a Lector has given me a deeper understanding of Scripture and the ways it can touch our hearts by having it read to us. Saint John's Parish has always been a gift in my life. Spending time here and helping out has made that gift even more special."

"It is very nice being a Eucharistic Minister. I always get the feeling of belonging to my church community and get such satisfaction from helping out. By serving in this ministry, I also feel that I am being a role model for my children. The benefits of serving truly outweigh the limited commitment and are truly worth the time."

If anyone would like to change Ministries kindly let us know. Please contact Sister Maureen at 617-323-4410, Ext. 16.
Are you interested in becoming a Eucharistic Minister? They are called not only to minister the body and Blood of Christ, but to have and maintain a strong faith, a sense of awe, and an inclusiveness of others as the foundation for their ministry. The ministers accomplish this by strengthen-ing their faith from within and sharing it with the faithful at communion time. Anyone interested in this ministry, please contact Sr. Maureen at 617-323-4410.
Saint John's Altar Servers The Mass is the greatest act of prayer and worship that we can make to God. The Mass is a celebration of God's love for us as an Altar Server it is a privilege to assist the priest with the Liturgy. We invite our adult parishioners and our young boys and girls to be part of this special ministry. Will you respond to God's call? If you are willing, please call Sr. Maureen at 617-323-4410 ext. 16.

We thank our Altar Servers who have been serving throughout the year.

Parents, kindly have your child at Saint John's ten minutes before Mass if he or she is serving. Thank you.
Clergy Benefit Trust directly supports the health, welfare, and retirement needs of our six hundered forty-five diocesan priests. These men have been there when we needed them. Now, it is our turn to fulfill the promises we make as Catholics to care for them when they need us. Clergy Benefit Trust supports the hundreds of priests across our Archdiocese who faithfully serve the Catholic faithful each day of their lives. All are welcome to make a donation online at CareforSeniorPriests.org On behalf of all our priests who will benefit from your generosity this Easter, thank you for your support. The following are senior Priests who have served faithfully at Saint John Chrysostom Parish. Please remember these faithful priests in your prayers and when contributing to the Easter Collection this year: Reverend Joseph K. Fagan, Reverend Leo X. Lynch, Reverend Paul A. Phinn, Reverend Paul W. Berube, Reverend William T. Pearsall, Reverend Garrett J. Barry, Reverend Paul V. MacDonald and Reverend Charles B. Flaherty.
Adult Choir Notice Saint John's Adult Choir members are currently rehearsing for Christmas. If you like to sing and enjoy the music of Christmas please consider joining our choir. Our next rehearsal will be at 6:30PM on December 4th, 2014, and then each Thursday until Christmas.
Boy Scount Christmas Wreath Sale: Troop 1 will be conducting its Annual Christmas Wreath Sale following all Masses on November 29th & 30th Wreaths cost $12 and the proceeds are used to send our Boy Scouts to Summer Camp. Troop 1 would like to thank the members of Saint John's Parish for their continuing support and we look forward to serving our community for many years to come.
Communion Calls The parish staff will bring Holy Communion to shut-ins on a monthly basis. Please call the Parish Office 617-323-4410, if you know of a shut-in who would like to be included.
Marriage Program/Pre-Cana The catechism of the Church explains: 1632 "So that the 'I do' of the spouses may be a free and responsible act and so that the marriage covenant may have solid and lasting human and Christian foundations, preparation for marriage is of prime importance." It is imperative that anyone who is preparing to receive the sacrament of Matrimony attend a workshop beforehand. For more information or to register, contact Sister Maureen ext. 16 or parish secretary 617-323-4410 ext. 10. You might also want to check the Archdiocesan website at v. more...
R.I.C.A.The RCIA (Rite of Christian initiation of Adults) is a process which adults are fully initiated into the Catholic faith community. It includes four periods of information: Pre-catechumenate, Catechumenate, Enlightment, and Mystagogia. It is for men and women who are not baptized, baptized in another Christian Church and interested in ours, or baptized in the Roman Catholic Church but who have not received Sacraments of First Eucharist and/or Confirmation and have not been active in their faith since childhood. Each person's journey of faith is different. There is no set timetable for reception of the Sacraments. If anyone is interested in this sacramental process, the season at Saint John's begins in mid-November. Please contact the Parish Secretary 617-323-4410.
Saint John's Baptism Preparation Program The Baptism Program is a time for parents to reflect on the love of God and the new life of your child. We welcome your child into the Christian Community through Baptism. It is a wonderful time to renew your faith-life as parents, and prepare for the Baptism of your child. Together we explore the meaning of Baptism not just for the day of the ceremony, but for the continuing faith-life of your child. The class is held each month. Our next Baptism Class will be July 12, 2014, at 10:00 AM. Before the Baptism of your child please call Saint John's parish Office 617-323-4410 ext. 10 or drop by for details and times. more...
Celiac Disease For those with celiac disease, we do have low-gluten altar bread and are able to consecrate these hosts at Mass for Holy Communion. If you wish to receive Holy Communion, please contact the parish office.
Military If you know of someone on active duty or about to be deployed and would like their name displayed in the vestibule of the church, please contact the parish secretary with the name and service. We will remember them in our prayers.
Students and Adults Called to Serve The Mass is the greatest act of prayer and worship that we can make to God. The Mass is a celebration of God's love for us as an Altar Server it is a privilege to assist the priest with the Liturgy. We invite our adult parishioners and our young boys and girls to be part of this special ministry. Will you respond to God's call? If you are willing, please call Sr. Maureen at 617-323-4410 ext. 16.
Ministry to the Ill and Shut-ins Saint John's Eucharistic Minister's visit the hospitals as often as possible. When someone is admitted to a hospital be certain to indicate that he/she is a member of Saint John Chrysostom Parish. If you or your loved one or a neighbor would like to receive the Eucharist at home, kindly call the Parish Center Office (617)-323-4410 and one of our Eucharistic Minister's will visit you each month. more...
Stewardship. All things are from God and all things should be shared with those in need. As the people of God, we are called to "Go in peace, to love and to serve the Lord." Stewardship is our way as Catholic Christians of doing that every day in every possible way that we can.

There may be new signs of life speaking to us. We have only to see them to experience the glory of the risen Lord penetrating the shadows of our lives. Would you ever consider being in ministry here at Saint John's as a Lector, Minister, Usher, Greeter or any other ministry. Just as Jesus taught His disciples, we as disciples of God, can offer what we have. We encourage you to participate in any of the above areas that you may feel you can share with us.

If you would like to join any of our ministries kindly call Sister Maureen 617-323-4410. Thank you. more...
Project Loaves and Fishes You can make an on-going difference in a hungry person's life. Simply bring a canned good or non-perishable food item to church with you every week. Place the item in the large baskets marked. Like Christ feeding hundreds with five loaves of bread and a few fish, you can make a difference in your own small way. The collected food will go to a food pantry where it will be distributed to those in need. They are in particular need of powdered milk, peanut butter, canned milk, tuna, macaroni and cheese and tomato sauce
Pregnancy Help Is a crisis pregnancy center sponsored by the Archdiocese of Boston. Trained and caring counselors are available to assist any women experiencing an unplanned or crisis pregnancy. Pregnancy Help provides free pregnancy testing, limited ultrasound, counseling, referrals, ongoing support and material assistance to support women in finding alternatives to abortion. All services are free and confidential. Services are available for English, Spanish and Portuguese speaking clients. For assistance call toll-free: 1-888-771-3914.
Our Parish Mission Statement
We are God's people – women, men and children – created in His image and raised to a new dignity through Baptism to be a priestly people and stewards of His creation.
Conscious of this dignity, we choose to gather together at Saint John's to worship our Father, through Jesus in the Spirit especially in the liturgy and to create a family bond among us.
Therefore, we freely commit our time, talent and treasure to enhance the spiritual and human growth of the members of this family and the wider community.
Welcome to new parishioners!
If you are new in the parish, please visit our office in the
parish center
or call the parish office (617) 323-4410 EXT. 10 to register with us so we have your name and address. Anyone in our parish who will be moving is also asked to advise us of their new address. Thank you.
---
Back to Top
Thank you for visiting our site.
66947 Visitors since 11 March 2012.
Comments or suggestions about the website are most welcome.
Email the webmaster
Copyright © 2002-2014 Saint John Chrysostom Parish, West Roxbury, Massachusetts