We invite you to join us in worship, in prayer, and in friendship.
Join us for our Sunday Masses and our weekly LiveStream Liturgy on our
FaceBook
and
youTube
pages on Sundays at 9:30am. Worship the Lord with us and be enriched by thoughtful homilies, beautiful music, and a welcoming community of faith.
We look forward to meeting you!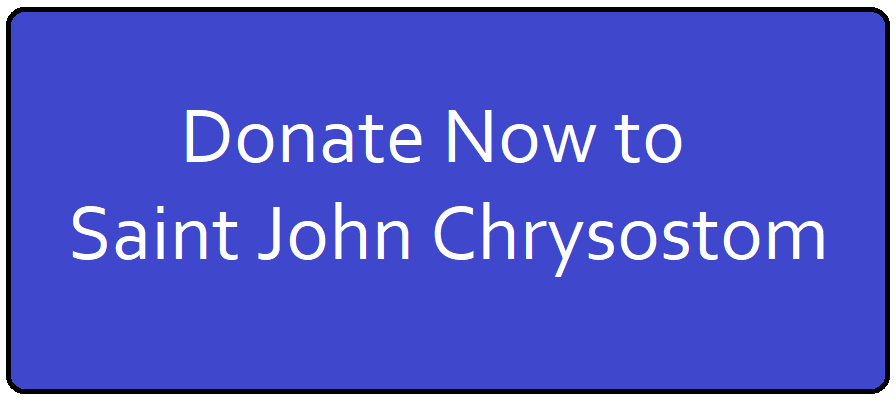 Support your parish electronically. You won't need to worry about bringing envelopes or remember to bring your checkbook or cash with you to Mass. You may elect to donate one time or recurring.
What's New at Saint John Chrysostom
No Confession this week (5/24 or 5/26): There will be no Confession this week at either Saint John on Thursday, May 26, or Saint Theresa Parish on Tuesday, May 24.

Sacred Heart has Confessions on Friday after the 8:30 am morning Mass, Saturday 3:00 pm and by appointment.
Welcoming Our New Neighbors (WONN)
Feb 22, 2022
We are now at the one-month mark since our new Afghan neighbors moved into the Saint John Chrysostom parish house. And what a month it has been! Over forty people have offered to volunteer with new people calling on a daily basis. I have the great privilege of having a "bird's eye" view of the many acts of kindness and generosity offered by WONN volunteers. Join me for a snapshot of the view:
A parent of a student at St. T's school, with a particular understanding of Afghan culture and food, stopped by to visit the men with his father and his son. They brought food and specialty spices, as well as cooking implements, especially suited to Afghan cuisine.
A Y member and WONN volunteer not only navigated securing Y membership for the men, but has facilitated a connection between Catholic Charities and Y leadership to look into Y membership for all the Afghans supported in the Catholic Charities resettlement program. Several volunteers have seen and met the men at the Y with a spontaneous trip offered to New Balance for the purchase of sneakers!
Another group of volunteers, led by Kathy Anastasia, is diligently working with the men on their English language skills two mornings a week at St John's Parish Hall.
Patty and Tom Courteau have volunteered to assist with securing bikes for the men, so you should see them riding the streets of WR by early Spring.
Another parish volunteer reached out and hosted the men for Saturday night dinner at her home!
Plans are underway for a trip out to Gillette to enjoy a Revolution Soccer Game...Stay tuned!
With financial contributions not only from the St. Theresa/St. John Chrysostom Collaborative Parish, but from around the country, it is clear that you are sharing the good news about WONN with family and friends. Many thanks!
Volunteers are welcome for all the activities described above as well those yet to emerge!
Please contact Barbara Thorp by calling the parish office for more info.
As our Grand Annual Collection Concludes
February, 2022
Dear Parishioners and Friends of Saint John Parish,
I write to thank you for the generous and sacrificial response of so many of you to this year's Grand Annual Collection. The three month period of time we allotted during this challenging year allowed many of you to spread your gifts out in a perhaps more planful and hopefully less burdensome manner.
Beginning at the end of the month of November, 2021, this year's Grand Annual Collection, which concludes on the last day of this month of February 28, 2022 has so far raised more than $18,000 and has exceeded our budgeted goal. It is with deep gratitude and appreciation that I thank those of you who have already contributed to our Grand Annual Collection in such a tremendous manner. I recognize the many challenges we all have faced over these years of pandemic and for those of you who have already contributed to have responded so selflessly and charitably demonstrates your deep and abiding commitment to the Parish Family of Saint John Chrysostom. As your Pastor, it is both heartening and humbling to receive such a wonderful outpouring of financial support.
For those of you who have yet to make a contribution to this year's Grand Annual Collection, I beg your indulgence of this final request for your generosity. As you are all well aware the decline in Mass attendance due to pandemic mitigation has impacted the financial bottom line of our parish over the last couple of years. So many of you, even if your ability to attend Mass in person was negatively impacted, remained faithful to weekly offertory donations by mail, online or by drop-off. As our Grand Annual Collection giving period hastens to its conclusion at the end of this month, I respectfully request that you prayerfully consider whether or not you might be able to join your brother and sister parishioners who have already made such a gift. If you find yourself in a position to be able to make a contribution, thank you so very much. If your financial circumstances preclude your making a contribution at this time, thank you for both your consideration and your on-going support of our Parish through your prayers and your continuing gifts of your time and talents, above and beyond your treasure.
As we look forward to soon entering into the Holy Season of Lent in prayerful and penitential preparation for our shared celebration of Our Lord's Easter Resurrection, please be sure of both my gratitude and the assurance of my prayers for you and yours.
Asking God to shower you and all whom you hold dear with the special blessings of this year's approaching Lenten Season of Grace, I am
Sincerely yours in Christ,

Reverend John J. Connolly, Jr.
Pastor
Free COVID Tests The federal government is making free test kits available shipped to your home. Visit special.usps.com/testkits to order yours.
RIP Rev. Paul A. Phinn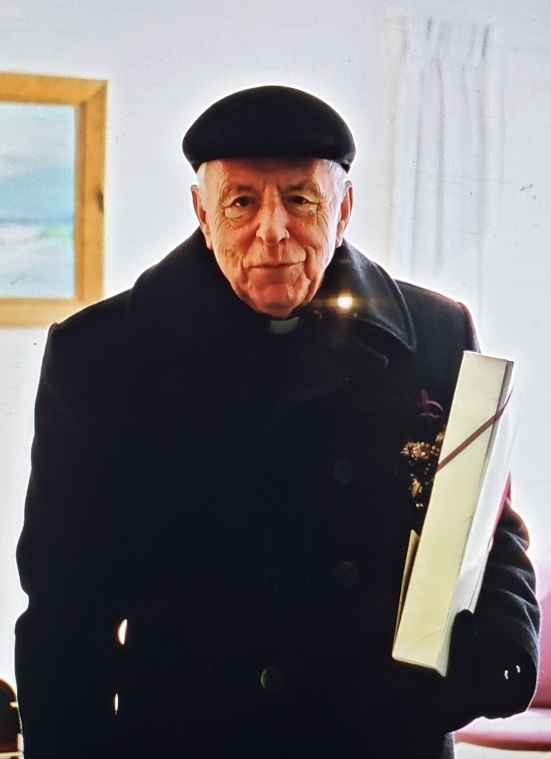 We regret to announce that Father Phinn died on January 14, 2022, two days before his 91st birthday. Father Phinn was pastor here at Saint Johns from September 1985 to December 2005. He will Lie in State here at Saint John on Tuesday evening, January 18, 2022 from 5:30 P.M. to 8:30 P.M. A Concelebrated Mass of Christian Burial will be held in St. John Chrysostom Church, 4750 Washington Street, West Roxbury on Wednesday, January 19, 2022 at 10 o'clock.

Father Phinn was born on January 16, 1931. He came from a family of two boys and attended the Randall G. Morris Grammar School in West Roxbury and Boston Latin School (Class of 1948). Both Paul and Gilbert became priests of the Archdiocese. He prepared for the priesthood initially at Maryknoll College in New Jersey and New York. He then completed his studies at St. John Seminary. He was ordained on February 2, 1957 at Holy Name Church by the Most Rev. Jeremiah F. Minihan. He offered his first Mass on February 10 at St. Theresa of Avila Church in West Roxbury.

Obituary: Gormley Funeral Home

You may also be interested in this video: Father Phinn at Saint John Chrysostom
Archdiocese Mask Mandate Eliminated: Effective February 28, masks are no longer required when attending Masses throughout the archdiocese including at the collaborative parishes of Saint John Chrysostom and Saint Theresa Avila. As Father Charlie Higgins says, we are giving up masks for lent.

Some parishioners will continue to wear masks, and we completely respect their decision to do so.
2021 Grand Annual

November 22, 2021

Dear Parishioners and Friends of Saint John Chrysostom Parish,

I write today to invite your participation in and support of the 2021 Grand Annual Collection. This yearly undertaking is the single most significant means, other than the weekly Offertory Collection, by which we, through your generous commitment, are able to raise the funds necessary to provide compassionate pastoral care, celebrate beautiful and uplifting liturgies, maintain our church, rectory and grounds, and, quite simply, continue to carry out the mission and ministry of Christ Jesus, Our Lord, in collaboration with our neighboring Parish of Saint Theresa of Avila and in communion with Cardinal Sean and the Archdiocese of Boston, right here in our little corner of West Roxbury.

This year of 2021 has continued to be a challenging one for all of us in so many ways. Our ongoing efforts to combat and contend with the COVID-19 Pandemic is about to enter its third year. The mitigation efforts and the many adjustments we have all been called upon make continue to take a toll.

Despite these challenges, you, the faithful who comprise and support Saint John Chrysostom Parish, have been extraordinarily generous and attentive to the financial stewardship of our Parish. As your Pastor, I cannot thank you enough for the manner in which you have stepped up to maintain the mission and ministry of our Parish. As we move forward together in the coming year your continued support is essential and remains critically important.

Some folks have asked how much money they should contribute to the Grand Annual Collection. As in most situations, there is no "one size fits all" answer. I simply invite each family to prayerfully consider your own ability to make a sacrificial offering. As a guide, in light of the demographics of our parish community, I would respectfully ask each working family to contribute Three-Hundred and Fifty Dollars ($350) to the Grand Annual if your circumstances allow.

For some of you, the economic fallout from the pandemic has severely impacted your own family financial situations. I am sorry for the hardships you are continuing to endure. Please be sure not only of our prayers in the face of these difficulties, but also of our willingness to try to support you in other ways which you might bring to our attention. As best we can, we want to walk with you and try to be of assistance. As I make this appeal for your support of our Grand Annual Collection, please be sure that I fully understand if you are not able to contribute at this time. Please make your family your first priority.

For others, the financial fallout associated with the pandemic has not been as significant, and your circumstances may not be as precarious as those of some of your neighbors. If you find yourself in a position to perhaps be even a little more generous in your donation to this year's Grand Annual Collection than in years past, please be sure that any such enhanced support would be both very welcome and put to good use. If your own particular, personal circumstances allow, I would be most grateful if you would please prayerfully and seriously consider increasing the size of the amount of your family's contribution to this year's Grand Annual Collection substantially, or even incrementally. As always, we here at St. John's are extremely grateful for both the sacrifices you make and for the devoted commitment you demonstrate through your ongoing, faithful support of our Parish.

Enclosed with this letter is the Return Envelope for the 2021 Grand Annual Collection which, as was mentioned above, will take place at all of our Parish Masses on the weekend of Saturday, November 27th and Sunday, November 28th. Recognizing that a substantial gift may not be possible in one lump sum, we will be gratefully accepting Grand Annual Collection contributions through the last weekend of February 2022, Saturday the 26th and Sunday the 27th.

With gratitude for your support through your gifts of time, talent and treasure, and with the assurance of an ongoing remembrance of you and all whom you hold dear in my Masses and prayers during these trying times, I am

Sincerely yours in Christ,

Reverend John J. Connolly, Jr.
Pastor
For a synodal Church: communion, participation and mission.
"... this synodal process is a gift of the Holy Father to the Church. It's not just a meeting about meetings, or a parliament, or a gripe session. It is calling us to be a listening Church - to pray, talk to each other and discern the signs of the times and God's will for the Church and our mission in the 21st century." - Cardinal Seán O'Malley, OFM Cap.
For a synodal Church: communion, participation and mission.
The consultative process in the Archdiocese will begin in early 2022 and will explore such themes as: Companions on the Journey; Listening; Celebration; Sharing Responsibility for Our Common Mission; Dialogue in Church and Society; Ecumenism; Authority and Participation; Discerning and Deciding; and Forming Ourselves in Synodality. The insights gathered from Catholics and others in this Archdiocese will be combined with those from other dioceses and be used to guide an international discussion.
The Synod will conclude with a General Assembly at the Vatican in October, 2023.
Refer to the Synod Synodality page on the Boston Archdiocses Web site for more information.
Sunday's Mass LiveStreamed: Goto our Facebook Page or our youTube Channel to replay the Masses from weeks preceeding. Be sure to view last year's Christmas Concert (2020) featuring our Cantors, John, Osmani, and Rena accompanied by Alan on the organ, piano, and guitar. Also in our archive is a video of Father John Carroll leading the stations of the cross.
St John's and St Teresa's Parish have formed a collaborative as of September 1, 2020. Please read this announcement from our pastor, Father John Connolly more...
Need Prayers? Each day we pray for those sick or infirmed in the Parish. If you would like us to pray specifically for someone in need, please write the name of the person in the Parish Book of Intercession in the vestibule of the church or call Saint John's Office at 617-323-4410 ext. 10. We now have an email for you to send us your prayer requests. We have a team of people praying and Father John will include your prayer intentions on the altar at our Live Stream Masses. Send your prayer to prayers@stjohnchrysostom02132.org

Important: For privacy reasons please use First Name Only for people you pray for.
Virtual Christmas Concert: Our Christmas 2020 Concert is available on-line.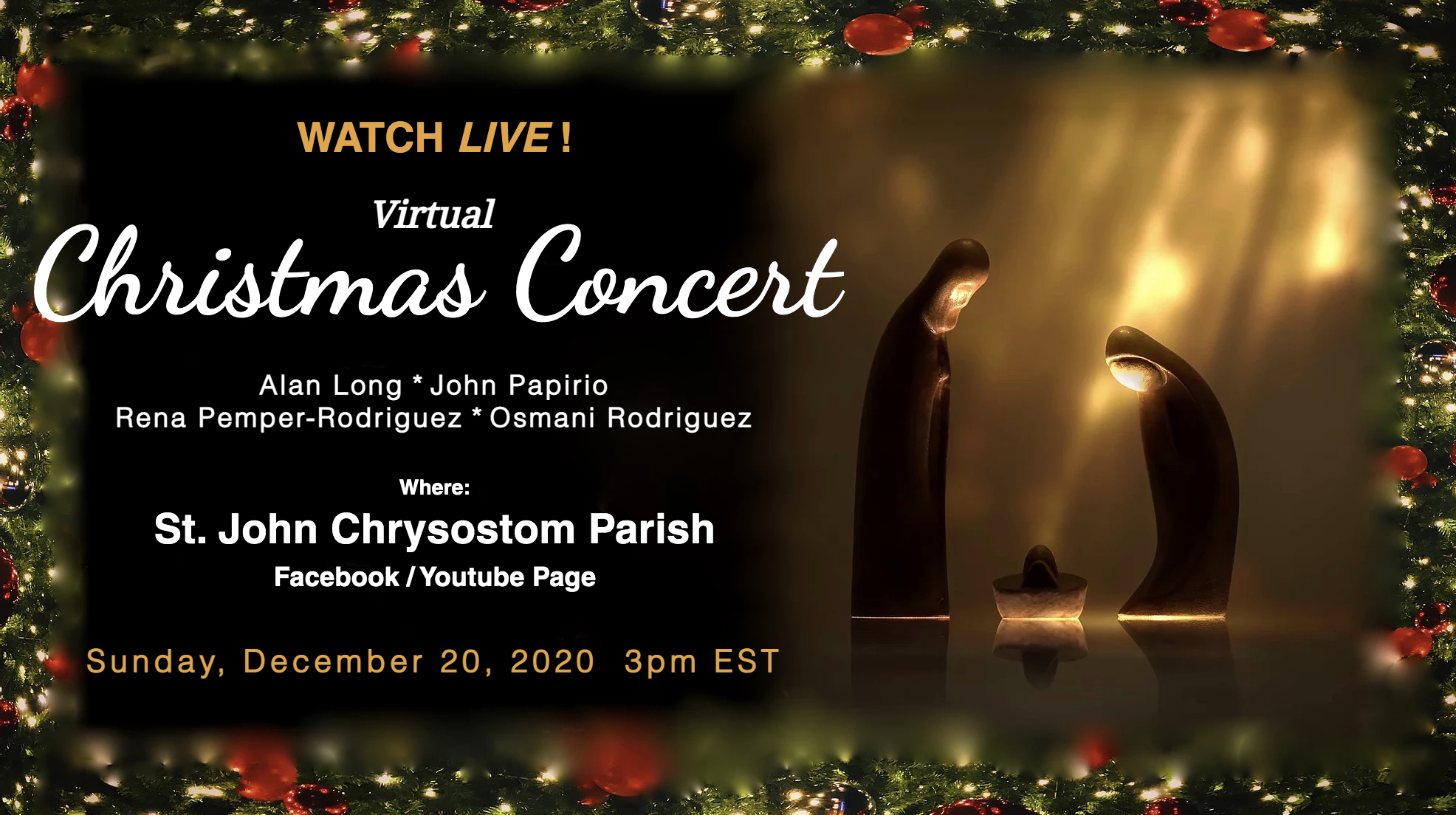 Eucharistic Ministers & Lectors: If you would like to become a lector, which simply means that you would read during Masses, or become a eucharistic minister, please contact the parish office or our pastoral associate, Mary Campion.
Project Rachel is a confidential Catholic outreach ministry offering hope and healing to women and men hurting from past abortions. Archdiocese of Boston. For further information call 508-651-3100 or help@projectrachelboston.com or visit the website at projectrachelboston.com

Project Rachel is named after the Old Testament figure Rachel, who weeps inconsolably for her children "who are no more" until God came to her, offering hope for her future. (Jeremiah 31:15-17)
Volunteering at Saint John's Saint John's is blessed with all those who volunteer their time to enrich our parish community. It reflects the generosity, the social commitment and the basic Christianity of our parish family. Thank you to all those who have volunteered in the past. If you are interested in volunteering, please call the parish office to learn more about our current opportunities for volunteers or contact our pastoral associate, Mary Campion.
Celiac Disease For those with celiac disease, we do have low-gluten hosts. When you come up for communion the priest will have the low gluten hosts in a separate container (pix). Take the host out of the container yourself since the priest has touched the hosts that are not gluten free.
Military If you know of someone on active duty or about to be deployed and would like their name displayed in the vestibule of the church, and included in the parish bulletin, please contact the parish bulletin with the name and service. We will remember them in our prayers.
Prayer of Fr. Mychal Judge
Lord, take me where you want me to go,
let me meet who you want me to meet,
tell me what you want me to say,
and keep me out of your way.
Peace Garden in Memory of Father Charlie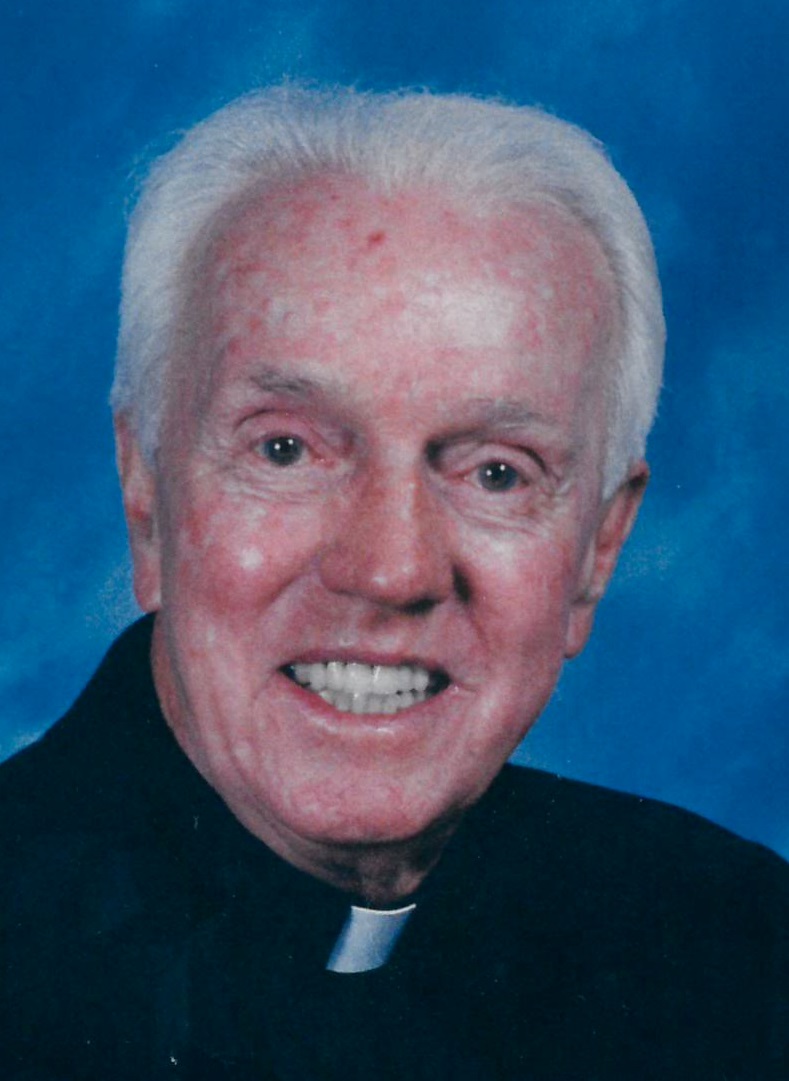 On June 4, 2017, we dedicated the peace garden in Father Charlie's honor. The garden is located in the back yard if the church. It will always be open to anyone who wants to sit and reflect, have lunch or even take their coffee outside. It is our parish garden for some quiet time.
Our Parish Mission Statement
Saint John Chrysostom Parish is a welcoming, inclusive community of believers in Jesus Christ. We invite all to pray with us. The gifts we bring and the joys we share are influenced by our personal history, religious experiences and orientation, all of who we are. We follow the Gospel message of love through vibrant liturgies which inspire us to act as we come with open hands serving the needs of all peoples.
Welcome to new parishioners!
If you are new in the parish, please stop by and say hello to the celebrant following mass and introduce yourself. Also, visit our office in the
parish center
or call the parish office (617) 323-4410 EXT. 10 to register with us so we have your name and address. Anyone in our parish who will be moving is also asked to advise us of their new address. Thank you.
---
Bookmark This Page !
Back to Top
Thank you for visiting our site.
471563 Visitors since 11 March 2012.
Comments or suggestions about the website are most welcome.
Email the webmaster
Copyright © 2002-2020 Saint John Chrysostom Parish, West Roxbury, Massachusetts