We invite you to join us in worship, in prayer, and in friendship, although at present, our Masses are virtual.
Join us for our Sunday Masses and our weekly live-stream Liturgy on our
FaceBook
and
youTube
pages on Sundays at 9:30am. Worship the Lord with us and be enriched by thoughtful homilies, beautiful music, and a welcoming community of faith.
We look forward to meeting you!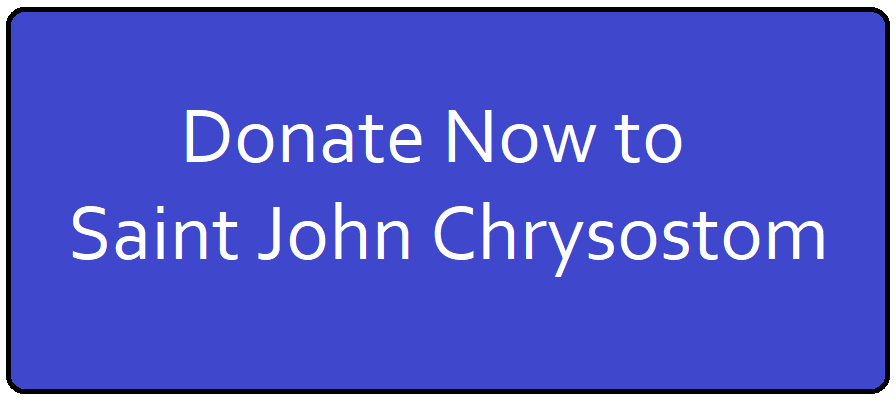 Support your parish electronically. You won't need to worry about bringing envelopes or remember to bring your checkbook or cash with you to Mass. You may elect to donate one time or recurring.
What's New at Saint John Chrysostom
No Saturday morning Mass 4/17: As Father Connolly announced at last Saturday's Mass, there will be NO Saturday morning Mass at Saint John Chrysostom this week ONLY. We will resume next weekend. Thank you for your understanding.
2021 Catholic Appeal: Let's Live Our Faith Together. The 2021 Catholic Appeal has launched at all parishes in the Archdiocese. The Catholic Appeal raises about fifty percent of the Archdiocese's budget. Your gift to the Appeal allows the Central Ministries of the Archdiocese to provide support to make our parishes, schools, and communities stronger. Every gift to the Appeal makes an important difference in the lives of so many. The theme for the 2021 Catholic Appeal is "Let's Live Our Faith Together."" If all parishioners make a gift to the Appeal, we will surely reach our goal.visit www.bostoncatholicappeal.org for more information or to give online.
Thank you!
Sunday's Mass Livestreamed: Goto our Facebook Page or our youTube Channel to replay the Masses from weeks preceeding. Be sure to view our Christmas Concert featuring our Cantors, John, Osmani, and Rena accompanied by Alan on the organ, piano, and guitar. Also in our archive is a video of Father John Carroll leading the stations of the cross.
Faith Formation: We have been cautious in deciding exactly how to proceed with Religious Education classes especially given the recent uptick in COVID cases in our area. We feel it's time to resume our Faith Formation programs but we understand that every parent is stressed out with the Zoom lessons more...
Saint John's and St Teresa's Parish have formed a collaborative as of September 1, 2020. Please read this announcement from our pastor, Father John Connolly more...
Need Prayers? Each day we pray for those sick or infirmed in the Parish. If you would like us to pray specifically for someone in need, please write the name of the person in the Parish Book of Intercession in the vestibule of the church or call Saint John's Office at 617-323-4410 ext. 10. We now have an email for you to send us your prayer requests. We have a team of people praying and Father John will include your prayer intentions on the altar at our Live Stream Masses. Send your prayer to prayers@stjohnchrysostom02132.org

Important: For privacy reasons please use First Name Only for people you pray for.
Virtual Christmas Concert: Our Christmas Concert is available on-line.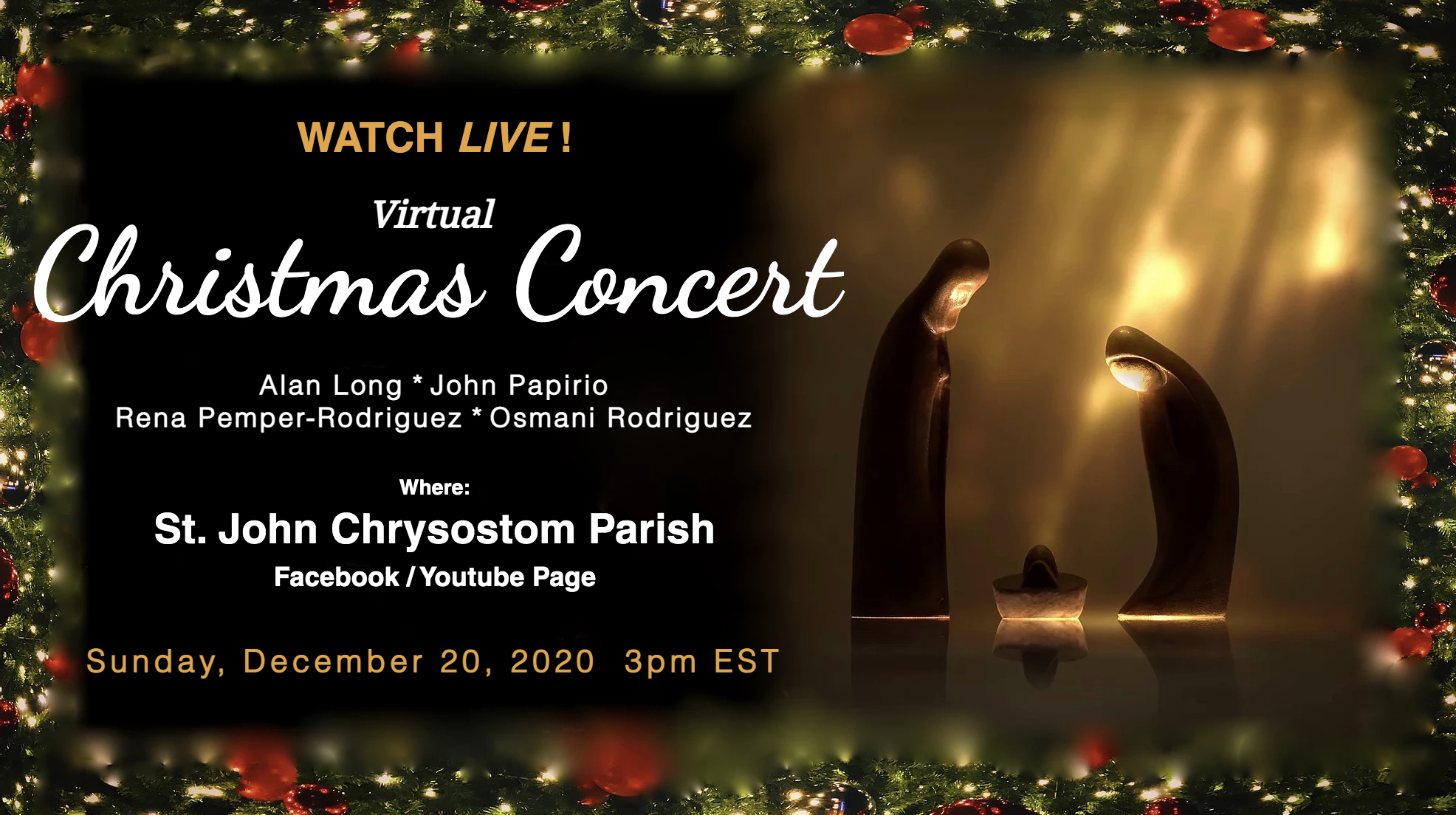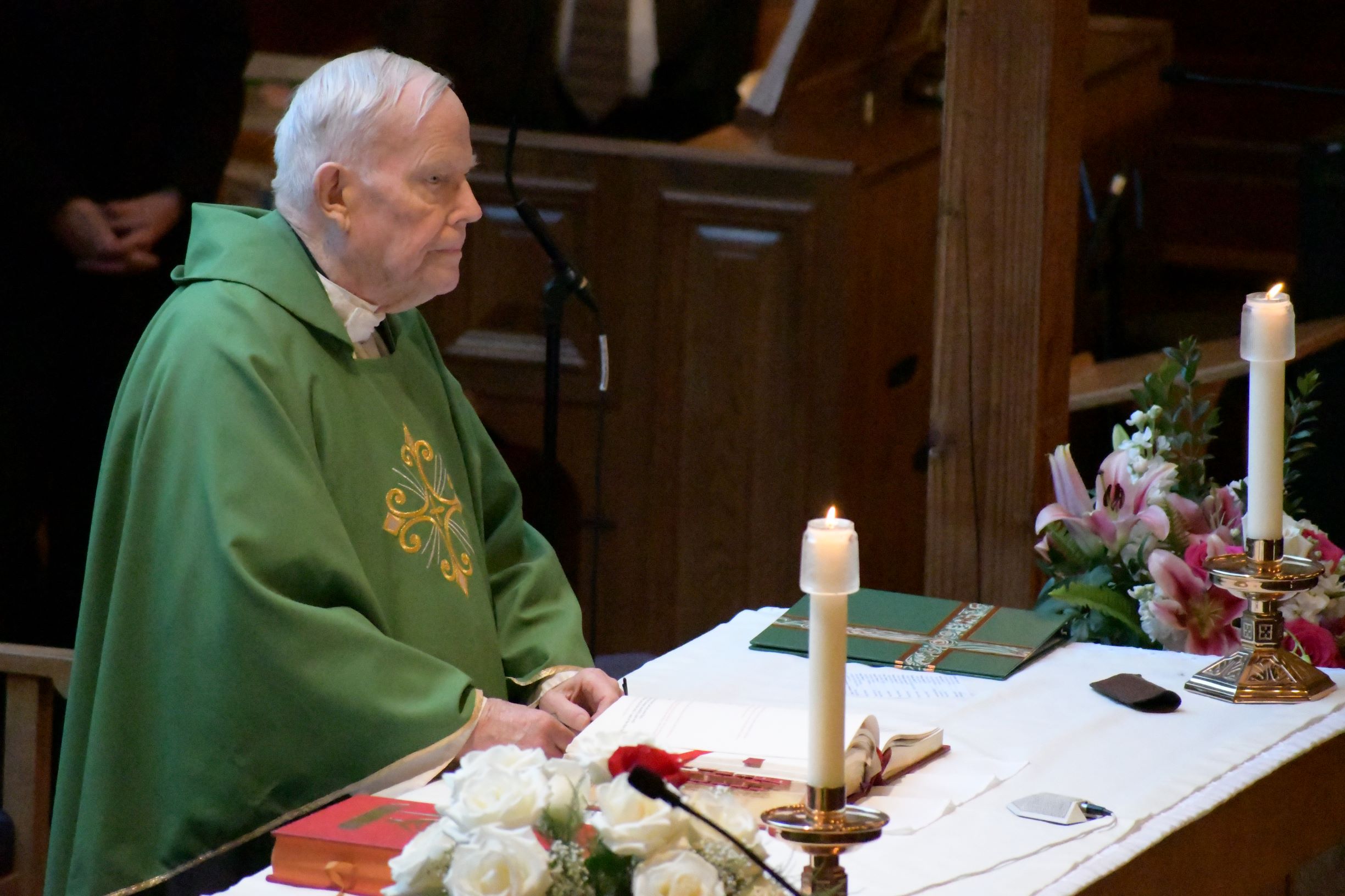 We are saddened to report that Father Paul has been called home to God. On Tuesday, November 17, 2020, Father Paul died in his home. For details, see the obituary on the Gormley Funeral Services web site.

See photos of Father Paul here.
2021 Parish Spring Celebration and Fundraiser: Our parish fundraiser that had been planned for April 2021 has been cancelled due to the ongoing COVID pandemic.

You can request your money back by contacting the parish office.

Further announcements will be made at a later date.
COVID-19 Precautions The situation with the COFID-19 virus continues to be a serious threat with lives being lost, much suffering, and heroic efforts to assist those by many. The situation appears to have reached its peak, and some of the more stringent policies are being relaxed. We are able to offer Masses on Sundays, with limitations. We remind you that the Cardinal had issued a dispensation from the obligation to attend Mass during this time to the Catholics of the Archdiocese of Boston.

This means that all programs including faith formation are cancelled. We are working to bring our faith formation on-line. Watch this space for updates.

For additional details from the archdiocese refer to this web page

As we have taken steps to minimize the spread of COVID-19 in our community, we recognize that the impact of this may be harder on some. If you are concerned about your health due to advanced age or being in poor health and in need of groceries or medications, we can assist in delivering these items to you. If you are able to help us by delivering items to those in need, please contact our office, leave your name, number, and when you might be able to help. Thank you.
Eucharistic Ministers & Lectors: If you would like to become a lector, which simply means that you would read during Masses, or become a eucharistic minister, please contact the parish office or our pastoral associate, Mary Campion.
Project Rachel is a confidential Catholic outreach ministry offering hope and healing to women and men hurting from past abortions. Archdiocese of Boston. For further information call 508-651-3100 or help@projectrachelboston.com or visit the website at projectrachelboston.com

Project Rachel is named after the Old Testament figure Rachel, who weeps inconsolably for her children "who are no more" until God came to her, offering hope for her future. (Jeremiah 31:15-17)
Volunteering at Saint John's Saint John's is blessed with all those who volunteer their time to enrich our parish community. It reflects the generosity, the social commitment and the basic Christianity of our parish family. Thank you to all those who have volunteered in the past. If you are interested in volunteering, please call the parish office to learn more about our current opportunities for volunteers or contact our pastoral associate, Mary Campion.
Celiac Disease For those with celiac disease, we do have low-gluten hosts. When you come up for communion the priest will have the low gluten hosts in a separate container (pix). Take the host out of the container yourself since the priest has touched the hosts that are not gluten free.
Military If you know of someone on active duty or about to be deployed and would like their name displayed in the vestibule of the church, and included in the parish bulletin, please contact the parish bulletin with the name and service. We will remember them in our prayers.
Prayer of Fr. Mychal Judge
Lord, take me where you want me to go,
let me meet who you want me to meet,
tell me what you want me to say,
and keep me out of your way.
Peace Garden in Memory of Father Charlie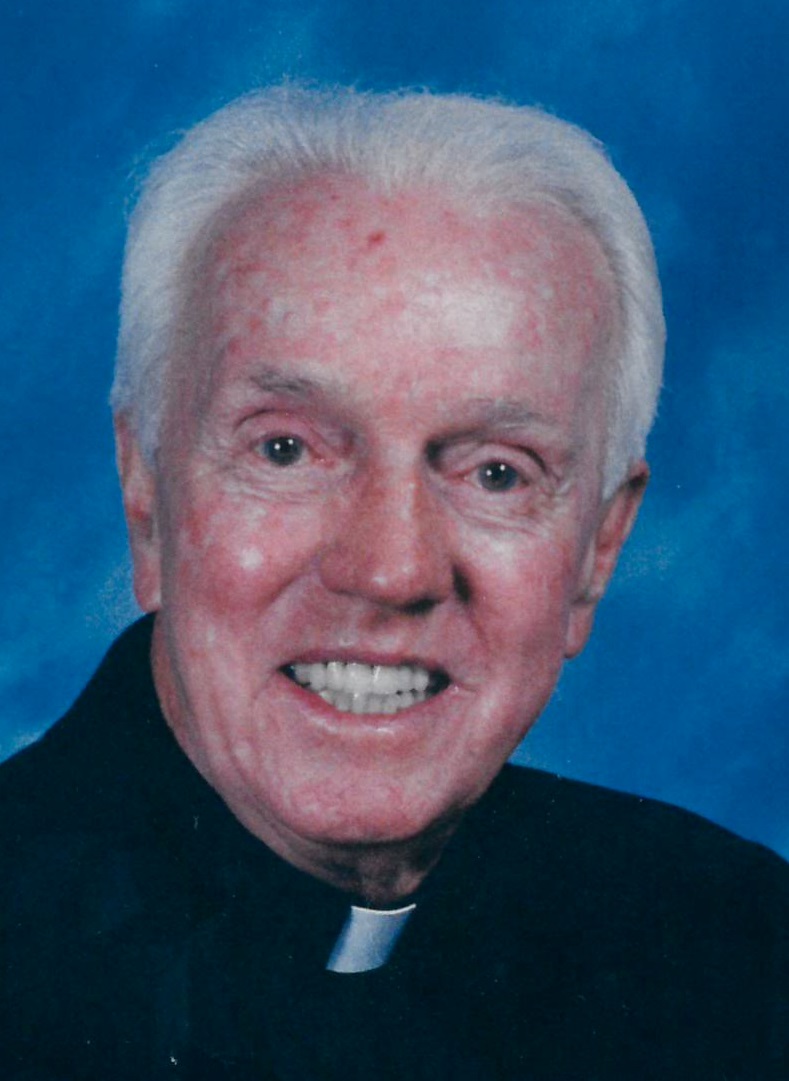 On June 4, 2017, we dedicated the peace garden in Father Charlie's honor. The garden is located in the back yard if the church. It will always be open to anyone who wants to sit and reflect, have lunch or even take their coffee outside. It is our parish garden for some quiet time.
Our Parish Mission Statement
Saint John Chrysostom Parish is a welcoming, inclusive community of believers in Jesus Christ. We invite all to pray with us. The gifts we bring and the joys we share are influenced by our personal history, religious experiences and orientation, all of who we are. We follow the Gospel message of love through vibrant liturgies which inspire us to act as we come with open hands serving the needs of all peoples.
Welcome to new parishioners!
If you are new in the parish, please stop by and say hello to the celebrant following mass and introduce yourself. Also, visit our office in the
parish center
or call the parish office (617) 323-4410 EXT. 10 to register with us so we have your name and address. Anyone in our parish who will be moving is also asked to advise us of their new address. Thank you.
---
Bookmark This Page !
Back to Top
Thank you for visiting our site.
406955 Visitors since 11 March 2012.
Comments or suggestions about the website are most welcome.
Email the webmaster
Copyright © 2002-2020 Saint John Chrysostom Parish, West Roxbury, Massachusetts