We invite you to join us in worship, in prayer, and in friendship.
Join us for our Sunday Masses and our weekly LiveStream Liturgy on our
FaceBook
and
youTube
pages on Sundays at 9:30am. Worship the Lord with us and be enriched by thoughtful homilies, beautiful music, and a welcoming community of faith.
We look forward to meeting you!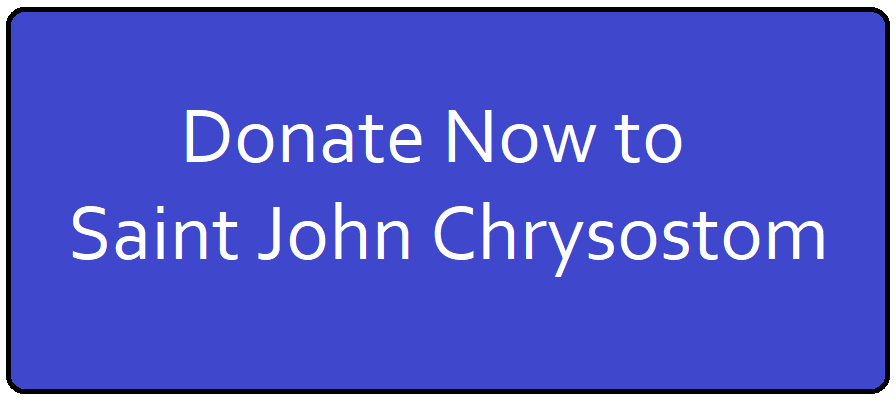 Support your parish electronically. You won't need to worry about bringing envelopes or remember to bring your checkbook or cash with you to Mass. You may elect to donate one time or recurring.
What's New at Saint John Chrysostom
Know Your Numbers! Your Saint John Chrysostom Parish Health Ministry offers monthly blood pressure screenings. Screenings are scheduled to be held monthly before and after the 4pm Mass, on the following dates:
May 20,2023,
and June 10,2023
Welcoming Our New Neighbors (WONN)
March 2023 Update
The last month has been busy and productive for our Afghan neighbors. With the help of WONN volunteers they are now licensed drivers and car owners. One car was donated by a family that learned of WONN's efforts to secure a car. The process of insuring and registering the car and navigating the RMV with the help of a WONN volunteer was a life lesson for sure . At the end of February they moved into a two bedroom apartment located in a large complex near the VFW Parkway. This transition could not have happened without the help of many WONN volunteers including one parishioner whose truck and strong back on a Friday afternoon enabled the move.
WONN is grateful to be partnering for the next year with The Shapiro Foundation to assist with rent as the men continue to learn to budget for daily expenses as well as to send money home to their families in Afghanistan where the situation grows ever more dire. Under the Taliban the women in Afghanistan are not able to go to work outside the home, girls are no longer permitted to attend school and women must be always accompanied by a man even to take their children to a local park. Women have become virtual prisoners in their own homes.
I was very moved to receive a poignant email greeting last week on International Woman's Day from one of our Afghan neighbors. He told me he also sent the same greeting to his mother, wife and sister in Afghanistan. We pray and hold hope with him for all the women of Afghanistan!
The men are working full time at Logan Airport. One works in the freight department for one of the airlines and the other works overnight with a team of men who service the luggage delivery system. It is interesting to note that the team of men working overnight are all foreign born working together from Afghanistan, Morocco, Puerto Rico, Albania and Colombia.
The men continue to express great affection and gratitude to all of you for your kind and generous support. They will begin Ramadan on March 22 concluding with the Eid celebration on April 21. In our own Lenten prayer and sacrifices may we join with them in asking God's blessings for peace in Afghanistan.
Your donations and volunteer help over the past year, since the arrival of our Afghan neighbors, have in a very tangible way enabled our St. T's and St JC's Collaborative community to respond to the call of Matthew 25: "I was a stranger and you welcomed me."
Donations to WONN are gratefully received and may be dropped in the collection basket (checks payable to the parish) designating WONN as the recipient or sent c/o of Carol O'Brien at the parish office.
Saint John Chrysostom Parish
4750 Washington Street
West Roxbury 02132
Peace & Prayers ‐ Barbara Thorp WONN Volunteer Coordinator


2023 Catholic Appeal.
The 2023 Catholic Appeal has officially launched here in our parish and across the Archdiocese on March 4 & 5, 2023. One of the most meaningful ways that we witness the presence of Christ and deepen the impact of our Church's ministries is by supporting the Catholic Appeal. Prayerfully consider extending your generosity to this year's appeal. When our parish reaches its goal of $37,477, a portion of the additional funds received will be returned to us for use in our parish. To make a gift online, please visit bostoncatholicappeal.org
Thank you!
Welcoming Our New Neighbors (WONN)

December 2022 Update

At the end of January, 2023 our Afghan neighbors will mark a year living at the St. John Chrysostom Parish House. As you know three of the original five men moved to other cities in the US – San Antonio, Chicago and Houston. All of them are employed and from what we hear appear to be doing well. One neighbor who moved to Houston drives a fork lift at a warehouse. He calls to check in every now and then and sends his greetings and gratitude to all for his start in WR. His handmade quilt, a gift from WONN, is a prize possession. He is also very proud of his improving English language skills. One of our WONN volunteers warmly welcomed P and K to their Thanksgiving gathering. Afghan dishes provided by the guests were quite a hit.

P and K are both making progress with their asylum cases toward establishing themselves as permanent residents of the US and with the hope of family reunification. The situation in Afghanistan is dire and all the more challenging especially for women and families during the winter months.

A card or greeting to them as we celebrate Christmas would be most welcome. Your on-going support and many kindnesses including them in your social gatherings are deeply appreciated!

Blessings of this Advent and Christmas Season to all.

Barbara Thorp
WONN Coordinator
2022 Grand Annual Collection This yearly undertaking is the single most significant means, other than the weekly offertory collection, by which we are able to raise the funds necessary to provide compassionate pastoral care, and, quite simply, continue to carry out the mission and ministry of Christ Jesus, Our Lord, in collaboration with our neighboring parish of Saint Theresa of Avila, and in communion with Cardinal Sean and the Archdiocese of Boston, right here in our little corner of West Roxbury.

The 2022 Grand Annual Collection will kick off with a special collection on December 3 & 4. Realizing that one lump sum may not be feasible for some in our parish, we will gratefully be accepting Grand Annual Collection contributions through the last weekend of February, which is February 25 & 26.

This announcement is extracted from a letter from Father Connolly. Please see the parish web site for the complete letter. And thank you for your consideration. Letter
Sunday's Mass LiveStreamed: We continue to live-stream our Sunday morning 9:30am Mass. Goto our Facebook Page, our youTube Channel or twitter page to participate in the current mass or to replay the Masses from preceeding weeks.

Be sure to view our previous Christmas Concert (2020) featuring our Cantors, John, Osmani, and Rena accompanied by Alan on the organ, piano, and guitar. Also in our archive is a video of Father John Carroll leading the stations of the cross.
St John's and St Teresa's Parish have formed a collaborative as of September 1, 2020. Please read this announcement from our pastor, Father John Connolly more...
Need Prayers? Each day we pray for those sick or infirmed in the Parish. If you would like us to pray specifically for someone in need, please write the name of the person in the Parish Book of Intercession in the vestibule of the church or call Saint John's Office at 617-323-4410 ext. 10. We now have an email for you to send us your prayer requests. We have a team of people praying and Father John will include your prayer intentions on the altar at our Live Stream Masses. Send your prayer to prayers@stjohnchrysostom02132.org

Important: For privacy reasons please use First Name Only for people you pray for.
Virtual Christmas Concert: Our Christmas 2020 Concert is available on-line.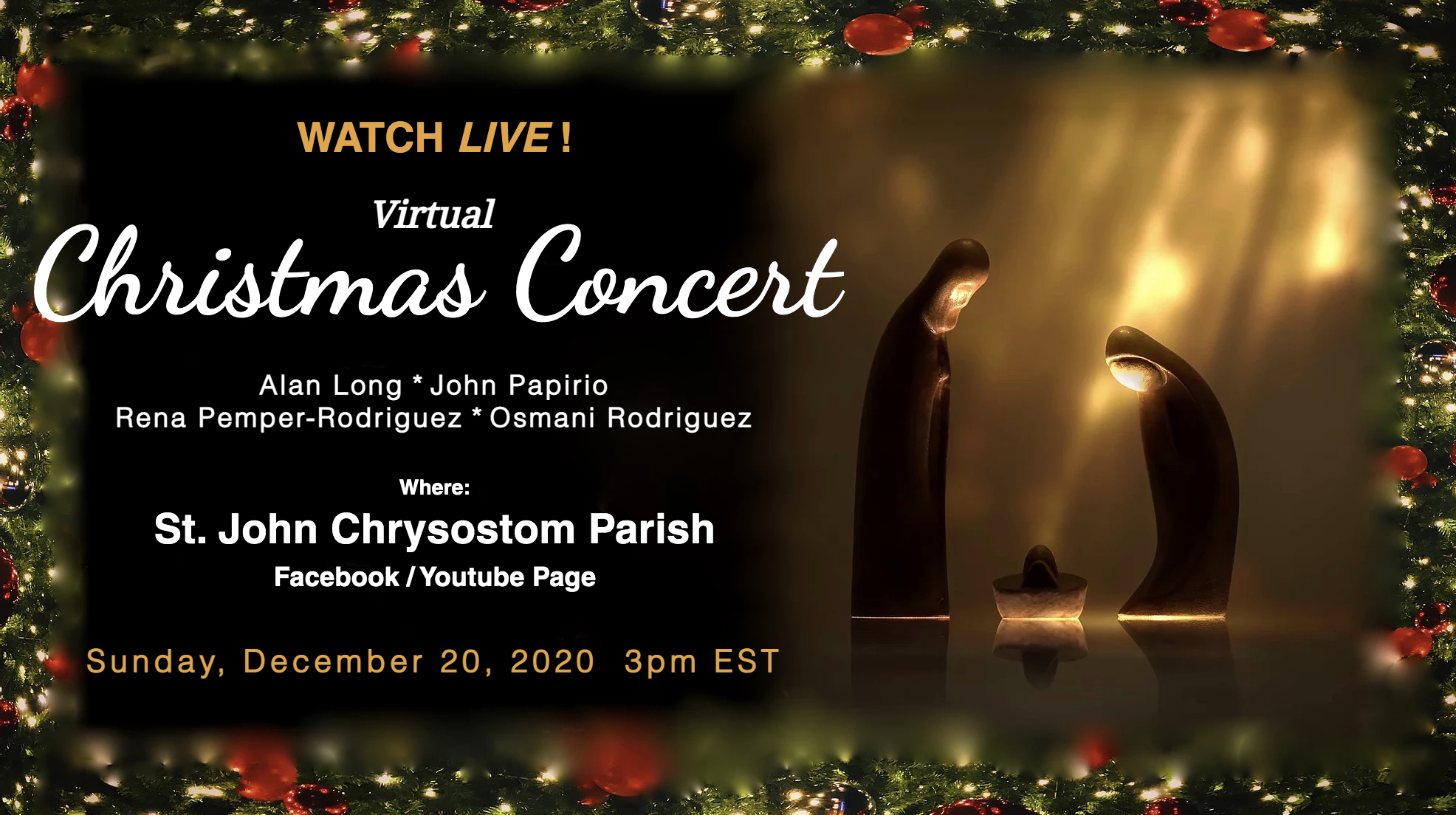 Eucharistic Ministers & Lectors: If you would like to become a lector, which simply means that you would read during Masses, or become a eucharistic minister, please contact the parish office.
Project Rachel is a confidential Catholic outreach ministry offering hope and healing to women and men hurting from past abortions. Archdiocese of Boston. For further information call 508-651-3100 or help@projectrachelboston.com or visit the website at projectrachelboston.com

Project Rachel is named after the Old Testament figure Rachel, who weeps inconsolably for her children "who are no more" until God came to her, offering hope for her future. (Jeremiah 31:15-17)
Volunteering at Saint John's Saint John's is blessed with all those who volunteer their time to enrich our parish community. It reflects the generosity, the social commitment and the basic Christianity of our parish family. Thank you to all those who have volunteered in the past. If you are interested in volunteering, please call the parish office to learn more about our current opportunities for volunteers.
Celiac Disease For those with celiac disease, we do have low-gluten hosts. When you come up for communion the priest will have the low gluten hosts in a separate container (pix). Take the host out of the container yourself since the priest has touched the hosts that are not gluten free.
Military If you know of someone on active duty or about to be deployed and would like their name displayed in the vestibule of the church, and included in the parish bulletin, please contact the parish bulletin with the name and service. We will remember them in our prayers.
Prayer of Fr. Mychal Judge
Lord, take me where you want me to go,
let me meet who you want me to meet,
tell me what you want me to say,
and keep me out of your way.
Peace Garden in Memory of Father Charlie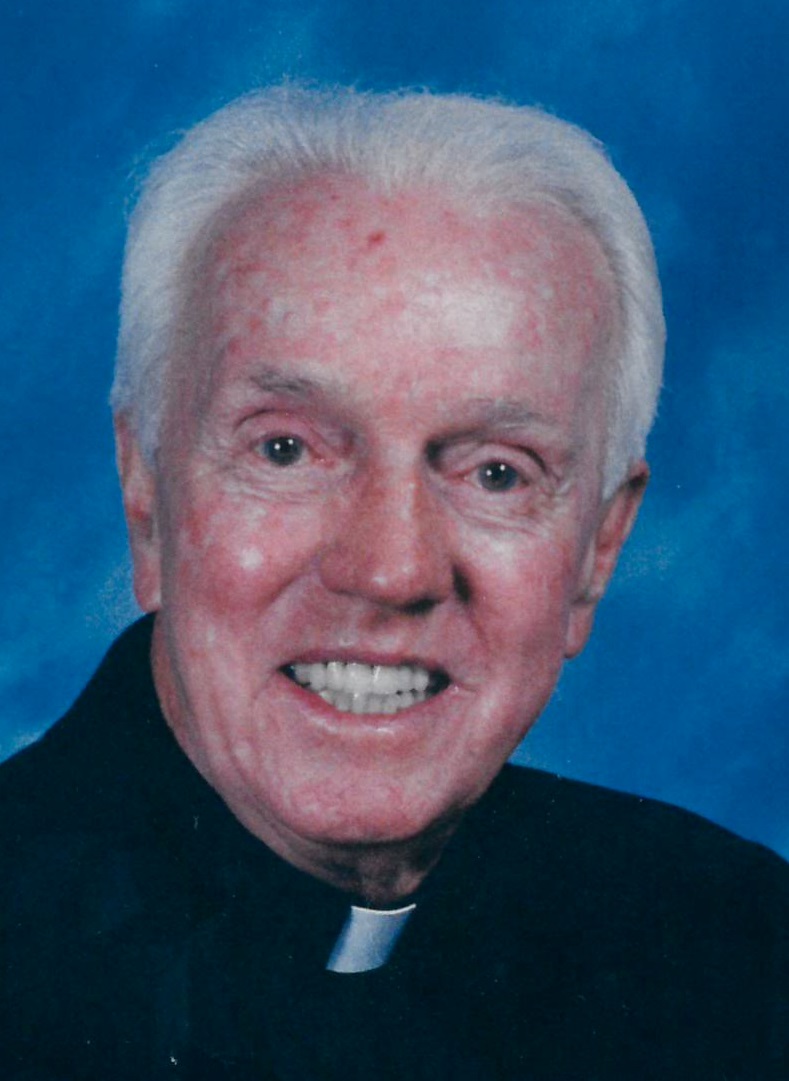 On June 4, 2017, we dedicated the peace garden in Father Charlie's honor. The garden is located in the back yard if the church. It will always be open to anyone who wants to sit and reflect, have lunch or even take their coffee outside. It is our parish garden for some quiet time.
Our Parish Mission Statement
Saint John Chrysostom Parish is a welcoming, inclusive community of believers in Jesus Christ. We invite all to pray with us. The gifts we bring and the joys we share are influenced by our personal history, religious experiences and orientation, all of who we are. We follow the Gospel message of love through vibrant liturgies which inspire us to act as we come with open hands serving the needs of all peoples.
Welcome to new parishioners!
If you are new in the parish, please stop by and say hello to the celebrant following mass and introduce yourself. Also, visit our office in the
parish center
or call the parish office (617) 323-4410 EXT. 10 to register with us so we have your name and address. Anyone in our parish who will be moving is also asked to advise us of their new address. Thank you.
---
Bookmark This Page !
Back to Top
Thank you for visiting our site.
526791 Visitors since 11 March 2012.
Comments or suggestions about the website are most welcome.
Email the webmaster
Copyright © 2002-2023 Saint John Chrysostom Parish, West Roxbury, Massachusetts